Annas Story Bronwyn Donaghy Essays
Rabbi's book simplifies Ten Commandments for children
Published: Thursday, 30 November 2017 10:00
Written by Marcia Horn Montgomery, Contributing Writer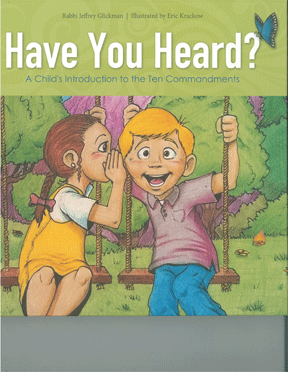 "Have You Heard?" by Rabbi Jeffrey Glickman, 10 color 
illustrations, 32 pp., Schiffer Publishing Ltd., $14.99
Explaining the Ten Commandments to a child can be difficult, but Rabbi Jeffrey Glickman makes it easy in his new book "Have You Heard?" Translating each commandment from the original Hebrew, Rabbi Glickman pares each one to its very basic premise.
Formerly a rabbi at Temple Adath Joseph in St. Joseph, Missouri, where he served from 1989 to 1995, Rabbi Glickman is now in his 23rd year at Temple Beth Hillel in South Windsor, Connecticut. He said he loved his years in St. Joseph, where three of his children were born.
Although he was made an honorary member of Temple Adath Joseph, he said he is a paying member because he wants to support the congregation.
He and his wife Mindy, between the two of them, have seven children ranging in age from 17 to 30.
This is the 57-year-old Reform rabbi's first book, but he has 24 board games on the market, all based on his sermons.
The book is for ages 5 to 8 and is one that Rabbi Glickman hopes children will want to return to over and over, whether they can read or not, and show it to their friends. The illustrations, by Eric Krackow, convey each commandment as Rabbi Glickman presents them.
"The artist went so above and beyond what I ever imagined for these pictures," said Rabbi Glickman. "They're so simple that they just warm you in the right places."
Plus, there's a little surprise in every picture — children (and adults) will have fun looking for it.
The children's text is in big, bold letters and Rabbi Glickman begins each page with "Have you heard?" For example for the fifth commandment, honor thy father and mother, he writes: Have you heard? Your parents are a part of you.
That's what the parents read to the child out loud. The smaller print at the bottom of each page is for parents to read to themselves, giving them tips on how to explain to their child what this means.
"I don't want this to be the book talking to the kid; I want the parents to talk to the kid," Rabbi Glickman said. "I want the parents to look like they're the heroes, like they're the ones who know — not that the book knows."
There are a lot of adults entering into parenthood who know there's something good about religion and want to teach it to their children, but don't know where to start, Rabbi Glickman said. What comes to mind are the Ten Commandments.
But how do you explain "Thou shalt not bear false witness against thy neighbor" or "Thou shalt not commit adultery" to a child?
For bearing false witness, Rabbi Glickman tells the child: You can remember what you see.
Then, for parents, he asks them to explain that it's good to remember what you see and tell people about it. You don't have to make things up because the things you see are amazing enough.
Rabbi Glickman begins the chapter on adultery with "Promises are treasures." He said according to the rabbis adultery isn't really about sex. At its essence it's about breaking a marital vow or promise.
"This is a wonderful way for parents to talk to their kids about faith that's not imposing," he said. "They are commandments, but I don't say you have to do this or that. But it does have that force. I just say 'Have you heard?' Have you heard, this is something we've got to do.
"I did not want to call it the 10 suggestions or the 10 tips for life or 10 good ideas, because we're commanded to do them."
With this book, Rabbi Glickman said he paves the way to the Ten Commandments as they are written so when children learn them in Bible class, they will understand them better for having read the book.
Another difficult commandment to teach to young children is "Thou shalt not kill." Rabbi Glickman writes "Don't waste."
"This one is tricky because we're allowed to have chicken for dinner, so what does it mean? I thought the simplest essence of this very difficult commandment is don't waste life and that opens up a whole slew of other things," he said.
He calls this an adult book disguised as a children's book. He said there is even an adult group using it as their book of the month.
Since Rabbi Glickman works with families so much and teaches these concepts over and over, he said he decided to write them down to see if he could make a unified whole out of them.
"I wanted to make it really easy for parents to address 10 important concepts that they want their kids to know, which happen to be in the Ten Commandments," he said. "I wanted them to be accessible. I work with lots of little kids and little kids don't understand; they want a couple of basic things."
"Have You Heard?" is available in bookstores, Amazon or directly through the publisher at schifferbooks.com.
Bronwyn Donaghy was trained as a journalist.  She learned the basic rules: getting the interviews, getting the facts, checking them, piecing it all together, prioritising, writing an objective succinct story from the headline through to the fine detail.  No observations, no opinions, no speculation, no lavish descriptions.  She learned the ropes on a regional newspaper and a country TV station, and by the time she was nineteen  she was in front of the cameras on Sydney TV, hosting a Sunday behind the news documentary.
A scintillating career as a media personality beckoned; she would be a presenter, commentator, interviewer or entertainer. But Bronwyn's first love was not reporting nor current affairs. It was writing, creative writing, writing from the heart.  She had other ambitions too: to travel, to marry, to have a family, to love and nurture her own children, and to live by the sea. So she gave up TV news and set out to achieve her goals one by one.  She travelled, she married, she had a family, and then she started to write on her own terms – from home.
Bronwyn began the long comeback trail by writing magazine articles.  In 1979 she applied as an occasional contributor to Slimming, Health and Nutrition magazine, owned and run by Martin and Carol Fallows who became lifelong associates and friends.  When concurrently with the Donaghys they also became embroiled in raising pre-and primary schoolers,  Slimming was replaced in 1982 by Parents and Children magazine, later Australia's Parents magazine. Carol tells her story. It was then that Bronwyn began to develop her professional interest in families, children and relationships.  With her training she was able to research any topic and produce technically perfect pieces on subjects as diverse as racial prejudice, gifted children  and dance classes.
Bronwyn's writing remained in low gear for most of the eighties, until her youngest child Liam was at primary school. She had always believed there was a funny side to seven days a week of parental frustration, and in 1989 found an outlet for it in the form of a monthly column called Storming Around, under the pseudonym Frances Storm, in a new publication, Sydney's Child. Bronwyn continued to write about the surreal Storm family, the children Turbulence, Serenity and Thug, and the Good Husband Mr O'Storm, until she died.
Her other main ambition at this stage was to write freelance articles for the Sydney Morning Herald, not an easy objective for any part time writer. In the early eighties the Herald began an "Agenda" page to attract women readers. Commented then editor Jenna Price:
"I was keen to have reader input, and began a column under the title Relations. Bronwyn sent me a short contribution about her life with Turbulence, Serenity and Thug. It was screamingly funny and I knew it would resonate with every other woman with children out there."
By 1989 Bronwyn had established herself as a frequent contributor to the Agenda page on community, family and children's topics. Being able to write professionally on almost any subject, she went on to work regularly for a variety of features editors at the Herald, providing commissioned features also to supplements such as Good Weekend,  Education, Careers and even the Master Builder Awards. As Jenna said:
"I'd give her tasks that 20 year olds found too tough – and she would come back a couple of weeks later with the story, real people, real names, nothing phoney. Often the people in her story would ring me and say how much they had liked her; one even asked if she would like to do a follow-up when she delivered her next baby (this woman was in her 40s when she had her first, an accomplishment in those days.)"
Even in her most intensive period of book writing and speaking engagements, between1996 and 2001, Bronwyn managed to write more than 70 articles for the Heraldon topics as diverse asyouth unemployment, violence in schools, life coaches, the Sydney Olympics and breast cancer, as well as the topics covered in her books.
Her middle class family was never wealthy and in the early nineties Bronwyn looked for as many other opportunities as possible to capitalise on her ability to pour out words.  In due course her forthright views, entertaining style, reliability and professionalism gave her a foohold as a regular and dependable contributor to a host of publications, including Women's Weekly,  Woman's Day, Family Circle, New Woman and Family Matters.  She even wrote for and edited Franchising magazine for a number of years, and produced a number of articles for The Age and The Australian.
In 1997 she won a national award from the Australian Society of Magazine Editors (ASME) for an essay on the change of roles which occurs between adults and their aging parents. She continued to write for Parents magazine until it closed down in 1999, even including a regular series of kindergarten-level stories about Hoot the Owl throughout the busiest time of her career.