My essay choices change with the class; summer workshop students always read Jo Ann Beard's "The Fourth State of Matter," the perfect essay to dissect when learning how to write effectively about great loss without self-indulgence. Undergrads always read John Jeremiah Sullivan and Ta-Nehisi Coates, who my grad students read, too. But we start with Montaigne and Sei Shonagon.
The forebears make an indelible impression on new essayists: last week, I saw a student poring over the giveaway books outside the English department. She held a battered Montaigne collection, and looked up from it to ask me, "what's the one where he writes about his bowels?" Shonagon and her "Hateful Things" has inspired a teaching assistant to routinely text me on his more trying days asking if I will, as Shonagon put it, "summon the exorcist."
But no matter the demographic, every one of my essay students reads Joan Didion's "On Keeping A Notebook," from her 1968 collection "Slouching Toward Bethlehem."
"On Keeping a Notebook" starts mis en scene, or if you want to throw some Latin in with your French, in medias res. The essay reads the way I imagine Didion herself speaks, starting smack in the middle of a thought. "'That woman Estelle,' the note reads 'is partly the reason why George Sharp and I are separated today.'" Who is Estelle? Why does Didion use such a harsh tone in the diction of 'that woman?' The reader doesn't know, and within a few lines, Didion asks questions of herself.
Starting in the middle of a thought is pleasantly disruptive for a reader studying the craft of writing. I watch and listen as my students lose their footing, struggling with expectations of knowing right away who's speaking, and where – and when, because "when" is a place, too. We discuss the value of the technique, the way it works here, and how a mis en scene technique can fail in lesser hands. "This is like the warning you see on car commercials," I tell them. "Trained driver, closed road."
But the road isn't closed. I teach "On Keeping a Notebook" because I believe vehemently that writers can't write well unless they have the habit of keeping a notebook. We are, as Didion writes, "well advised to keep on nodding terms with the people we used to be…"
As an essay, "Keeping a Notebook" is an active examination of the self – a self, clearly, that she used to be. This is the role our notebooks must take in our lives, too.
Didion's critical approach introduces students to the concept of positionality. "The point of keeping a notebook has never been… to have an accurate factual record of what I have been doing or thinking," she writes. Students new to creative nonfiction invariably wrestle with the concept of telling their own truths, and are either unsettled or relieved by the idea that how and why we remember an occurrence is not the same as a factual record of that same occurrence. Our notebooks combined with our research are the elements we use to create the blend that begins the first drafts of our creative nonfiction.
"How it felt to me…" Didion writes. How, I ask students, did "it" feel to you, that wedding, that funeral, that boring afternoon on the intercity bus, that time you careened down a snowy park side hill with your brother on a red Flexible Flyer? Against this inquiry, and given time to write, they open up, look inside, meet themselves coming round again.
Creative nonfiction, unlike traditional journalism, is made in part of the passage of time. We as writers require that temporal distance to capture what we didn't know then, to discover who we are now because of then. Didion writes of a "plaid silk dress from Peck & Peck," of a "crepe-de-Chine wrapper." Only my older students, summer workshoppers mostly, remember the elegant Fifth Avenue department store, and some of my undergrads can't pronounce crepe de Chine, but I remember my white gloves worn as a child to very grown up stylish affairs, gloves small as camellia leaves, now wrapped in tissue in a drawer. What, I ask students, is a physical element that you remember, that no longer fits?
When I first started teaching "On Keeping a Notebook," I was surprised by how many students hadn't yet read any Joan Didion. I was more than surprised – I was alarmed. The canon rests on Didion, as much as Montaigne, Shonagon, Woolf, Coates, and so many others. And so I required myself to teach Didion's clear eye and astringent, wrenching language; the "viscous summer sidewalks" of "On Keeping a Notebook," and that harrowing image from "The White Album" itself, a California cautionary tale of the five-year old daughter of one Betty Lansdown Fouquet, abandoned on the center divider of Interstate 5 south of Bakersfield, "whose fingers had to be pried loose from the Cyclone fence when she was rescued 12 hours later by the California Highway Patrol."
"Remember what it was to be me," Didion writes in "On Keeping a Notebook." She also means, I think, "remember what the world was like then." If I, teaching that essay, have encouraged a writing student to undertake that task, I've more than done my job.
**
Jessica Handler is the author of Invisible Sisters: A Memoir (The University of Georgia Press, 2015, Public Affairs Books, 2009) named by the Georgia Center for the Book one of the "Twenty Five Books All Georgians Should Read." Atlanta Magazine called it the "Best Memoir of 2009." Her second book, Braving the Fire: A Guide to Writing About Grief and Loss (St. Martins Press, December 2013) was praised by Vanity Fair magazine as "a wise and encouraging guide." Her nonfiction has appeared on NPR, in Tin House, Brevity.com, Newsweek, The Washington Post,More Magazine, and elsewhere. Honors include residencies at the Josef and Anni Albers Foundation, a 2010 Emerging Writer Fellowship from The Writers Center, the 2009 Peter Taylor Nonfiction Fellowship for the Kenyon Review Writers' Workshop, and special mention for a 2008 Pushcart Prize. www.jessicahandler.com.
My Favorite Essay To TeachJoan Didion, My Favorite Essay To Teach, Teaching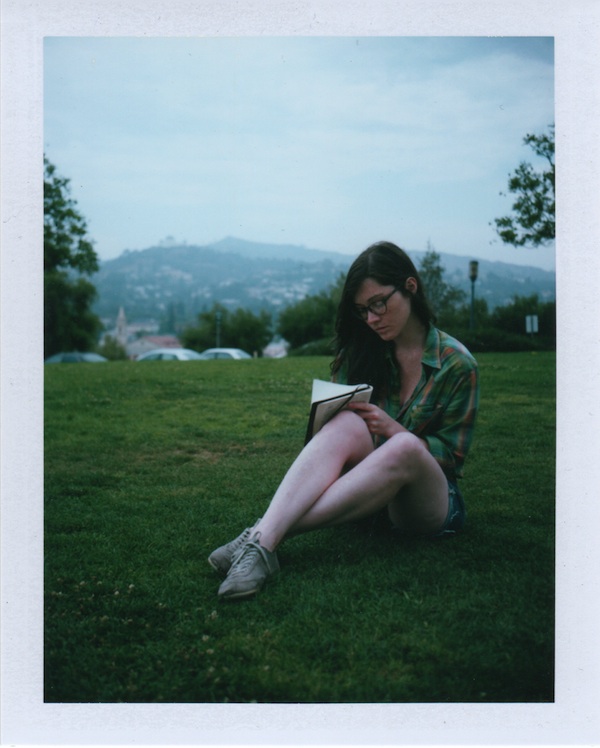 Read part 1 here.
People often ask me whether, as a writer, I prefer to write by hand or on a computer. Realistically, it depends on the kind of writing I'm doing, but for a long time I responded that I preferred writing on a computer because it's more difficult to write by hand and because writing on a computer is faster. "My thoughts move faster than my hand," I would say, as if one part of my body was smarter than the other. Of course, this was just an excuse. The first entry of my latest notebook includes the following passage:
How much time every day will I have to spend getting all of my thoughts down on paper? But they don't have to be all of my thoughts. But some may be left behind. Are they really that important? How important are my thoughts? That is the real question here.
The question of how much time every day is required for keeping a notebook is—like the question of the difficulty of writing by hand, or that of whether or not someone will read my notebooks, or the question of accuracy or inaccuracy—just a way to keep myself from making work that is "unpresentable." I don't mean unfinished—I mean not good. Over the last two years, I've managed to scare myself out of treating my notebook as a private space, and trick myself into using it only as a place to reflect on other peoples' public thoughts under the guise of intellectualism. It is the same fear that beset me three and a half years ago when I took my high school notebooks outside and burned them. What was I afraid of? Of someone I respect seeing work that I found embarrassing, maybe. Of being exposed as a fraud, as if, because I once filled entire notebooks with "free verse" poems about underage sex and drinking, I could never be considered a serious writer. Of someone thinking—proving—that I'm not good enough.
I began my latest notebook on June 27, two days before I left with my husband and his family for Sedona. I wrote the first entry immediately and then forced myself to write in the notebook every single day after that, with a few exceptions. At this point, it's already almost half full. The entries consist of everything from daily summaries, or reflections on certain events, to dreams I had after reading Georges Perec's dream diary, La Boutique Obscure, to notes on how to edit my novel, to lists of words, phone numbers, and book titles, and notes taken while talking with friends. In the last case, I leave off trying to write down the most important parts and just write down whatever I hear. These entries read something like:
– Empathizing with another entity or film
– Literature is something you take whereas music and film are given to you
– The act of reading is an exercise
– Book: putting together elements of diction, semantics
– Film should just be presented to you
– Technicality of film is meant to be seamless for the viewer
– The more technical literature is
– A three-act film is just a three-act film
– Started looking at film as a wholly technical thing
The process becomes an appropriation of language rather than an effort to make sense. At some point, I had to work through the idea that there would always be holes in the story of this notebook; that I could never collect everything that happened, and that furthermore, that wasn't at all the point. Learning to love and accept what doesn't make its way into my notebook is a matter of making peace with the physical limitations of writing. An earlier conversation with my husband and two of our friends while driving in Los Angeles, the first of its kind in the notebook, includes a brief interjection by me:
Is that the gay Mexican club
I miss this place very much
What can I arrange with all these sounds
Find their own phrasing
Find their own rhythm
A semblance, rejoining
What the fuck is that, holy Jesus Christ
…
There will always be holes between them
This was two days before I accidentally deleted all of the pictures I had taken thus far on the trip, which itself occurred the day before we were to fly back to New York. Of course, I was devastated. But I realized quickly that not all was lost, that I could use the notebook creatively to salvage some of the memories I feared I would lose along with the pictures. I started writing down one-line descriptions of as many pictures as I could remember. At some point, I realized it was easier to say "Several taken down into the Grand Canyon" rather than describe each picture in detail. And this is good enough for the purpose, because all that I need, when I look back over those entries, is the spark of a memory to set the whole scene in motion again.
The impulse reminds me of a French writer I wrote about recently, Marie Chaix, whose novel The Summer of the Elder Tree was released by Dalkey Archive Press in June. It's the product of Chaix's weaving together notebooks she kept over the ten years she "wasn't writing," following the death of her editor. There are gaps between events, sometimes lasting several months, but Chaix cinches together entries and then novelizes the in-between. Where the story doesn't follow linearly (and it really never does), she manifests a relationship between entries with the use of metaphor or anecdote, or by drawing a conclusion before moving on to the next challenge.
I've spent the last few years thinking that I wasn't the kind of writer who kept a notebook; that, because I don't often journal in it, the book that I carried around every day and wrote in wasn't enough of a notebook to be able to wear the name. I'm not sure what I called it, but it certainly wasn't allowed among the ranks of Sontag's, Kafka's, or D. H. Lawrence's bound companions. Of course, this is ludicrous; looking at the stack of books I pulled off the shelf just to write this essay, it's clear to me that the relationship I have with my notebooks isn't just strong, but lively. It happens in small and larger sizes, different colors and textures of paper, bindings and frequencies, styles and methods, to say nothing of the letters and pieces of mail art sent to friends, and notes scribbled in the margins of every book I read. In answer to the question of whether I prefer to write by hand or on a computer, then, evidence would suggest that it doesn't make a difference. Where I write is beside the point. As long as it happens, it can happen anywhere.
Sarah Gerard is a writer and a bookseller. Her fiction, criticism, and personal essays have appeared in the New York Times, the Los Angeles Review of Books, BOMB, Slice magazine, and other publications. Her journalism has appeared in the Tampa Bay Times. She earned her MFA at the New School.